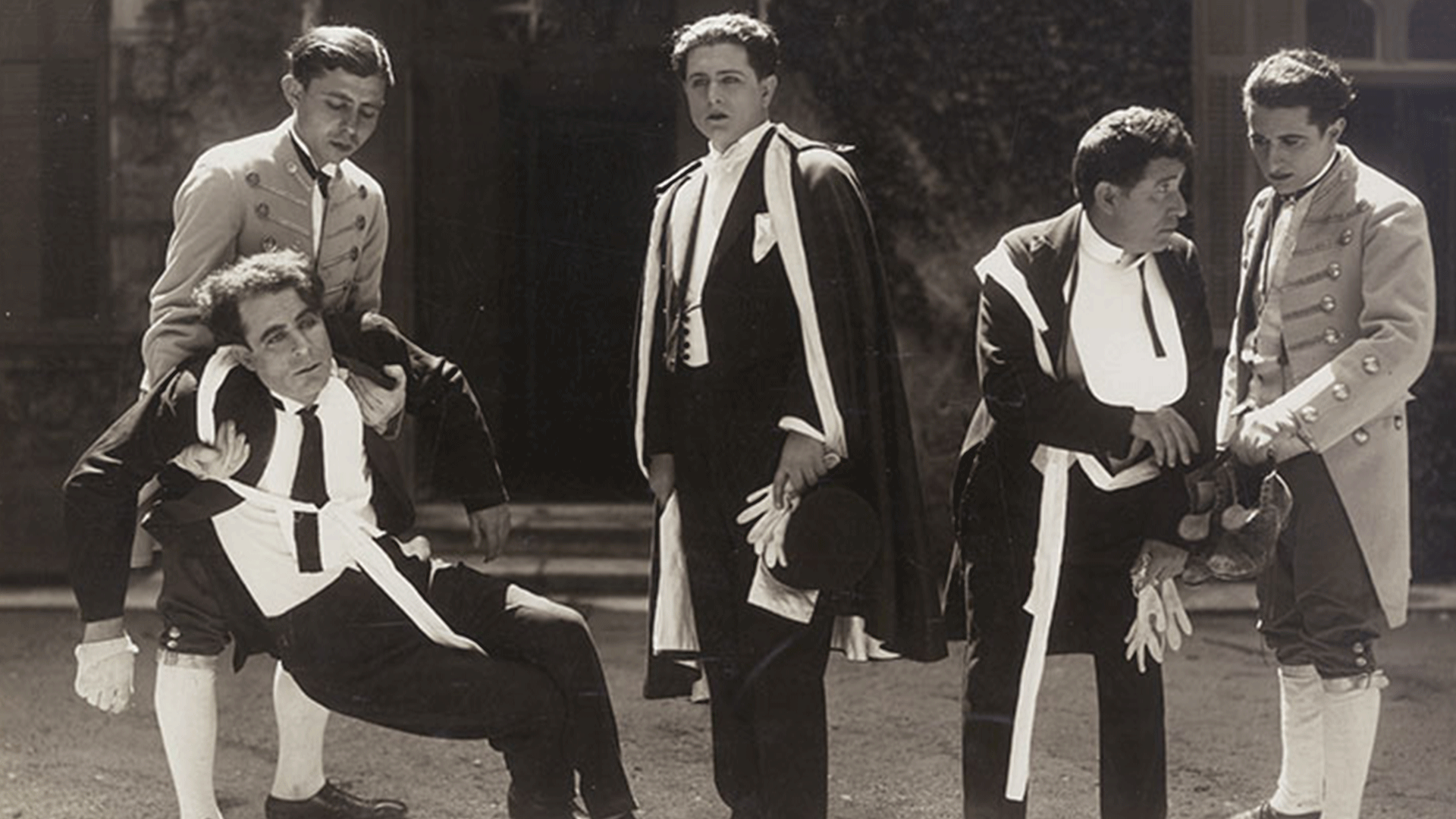 Section: Athens of the 1930s

The story is about the charming but penniless Pierre Lambetis, known as "The Prince", beloved by the flower-seller Titika, and his two chums, the comic duo Karoumbas (played by librettist Prineas) and Karkaletsos. To play a trick on the pompous nouveau riche Greek-American Xenofon Paralis, the friends hatch a scheme to infiltrate his mansion by having "The Prince" pretend to be an aristocrat. Once inside, he discovers that the rich man's daughter Vera is the mysterious woman he rescued earlier from a riding accident, and he's smitten. The "Prince's" destiny will change once he inherits his rich uncle. Paralis will also ask for forgiveness. Faced between Vera and Titika he will opt for Titika, and live happily ever after.
---
Dimitris Gaziadis

Dimitris Gaziadis (1897-1961) was born and died in Athens. He studied at the Academy of Fine Arts in Munich before embarking on cinema. Ιn Berlin, he became the assistant of Georg Wilhelm Pabst, Ernst Lubitsch, Alexander Korda and Ewald André Dupont. He returned to Greece and followed the Greco-Turkish War (1919-1922), more as a documentary filmmaker, rather than a newsreels camera operator. He created with his brothers, Kostas (who had been a cinematographer in the United States) and Mihalis, the production company Dag-Film in the 1920s. He continued to make, mainly, historical documentaries until 1955.
---
About the film

"The Apaches of Athens" by Dimitris Gaziadis, is the first "singing and sound" Greek film (1930), deemed lost for many decades. The positive nitrate print was discovered, four years ago, in the archives of the Cinémathèque française; an incident of great importance since it is the first Greek film that was accompanied by a synchronized recording of the music and songs. This first loose cinematic adaptation of the operetta of the same name is a significant, lost to this day, link in the history of early Greek cinema. The operetta, with Nikos Hadjiapostolou's music and Giannis Prineas's libretto, had its premiere on August 19, 1921, and was a great success. Even today, it is considered revolutionary in its treatment of its working-class characters.  The word "apaches" comes from the French term "apaches", which identified the members of the subculture of the time.

This hybrid film (operetta/ romantic comedy) freely follows the plot of the operetta and its strength lies in the lofty aesthetics of its filming, which splendidly records some of the most significant landmarks of Athens and its surroundings, while capturing the 1930s everyday life in the areas of Plaka, Psyrri, Agora, Thiseio, Gazi, Haftia, Syntagma Square, Omonia, Stadiou and Panepistimiou streets, and even the Tatoi Palace.

The poverty of studio settings, as has been often in the case of cinema history, led the director to opt for shooting on location and thus providing "images of Greece". Yet by embarking on the inclusion of realist scenes he went beyond the capturing of the city's landmarks, to reveal, in the picturesque neighboorhoods of Plaka and Thission, poverty and refugee settlements that had not until then been filmed or included in a popular film. Thus the film gives a realist portrayal of a society experiencing deep social divisions and indeed revealing cleavages that lead to a  "stillborn republic". Even if the plot diverts the spectator from focusing too much on the social context, the images of destitution and social inequality are exposed to the eye of the beholder.

This historic film, an invaluable record of mid-war Athens and major forerunner of Greek neo-realism is brought back to life under the auspices of Costas Gavras, as result of the collaboration amongst the Greek Film Archive, the Cinémathèque française and the Greek National Opera, with exclusive funding provided by the Stavros Niarchos Foundation. The Greek Music Center undertook the reconstruction of the brilliant orchestral and choral music that accompanied the film. Giannis Tselikas arranged and reconstructed the music and Giannis Samprovalakis did the musicological research. Electra Venaki managed the image and sound restoration process. The final sound mix on the digital restoration includes original recordings of that period and the new recording of the music performed by the Greek Radio Symphony Orchestra and the National Opera's Soloists, conducted by Anastasios Simeonidis.
 
- Céline Ruivo and Maria Komninos 
---