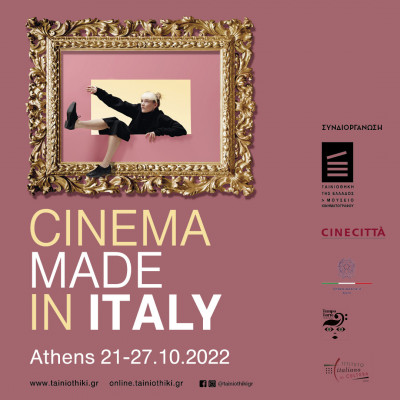 ➔2nd Italian Film Tribute Cinema Made in Italy/Athens
➔ From 21st till the 27th of October
➔ Greek Film Archive and online.tainiothiki.gr


The Greek Film Archive, the Cinecittà, the Italian Embassy, the Italian Cultural Institute of Athens  bring a scent of Italy to our screens, and present the 2nd Italian Film Tribute Cinema Made in Italy/Athens, to be held from the 21st till the 27th of October, at the Greek Film Archive, Athens.
12 new Italian films, from the greatest international film festivals (Venice, Cannes, Berlin, Locarno) will be screened -while 3 of them will also be available on the Greek Film Archive's platform online.tainiothiki.gr.
National premieres, discussions and guests on a wonderful journey to the homeland of Fellini, Visconti, Pasolini and Antonioni... The audience will watch first and second feature films by talented new Italian creators (9 fiction, 3 docs), as well as the new films by the 91 years old Paolo Taviani and Marco Bellocchio. 
The movies are:  The legionnaire (Hleb Papou), Atlantide (Yuri Ancarani), The hole (Michelangelo Frammartino), Like turtles (Monica Dugo), Margins (Niccolò Falsetti), The tale of King Crab (Alessio Rigo de Righi, Matteo Zoppis), Small body (Laura Samani), Dry (Paolo Virzi), Marx can wait (Marco Bellocchio), Leonora addio (Paolo Taviani), Princess (Roberto De Paolis) and Californie (Alessandro Cassigoli).
The program includes the legendary film of Michelangelo Antonioni The adventure (1960) as a tribute to unforgettable Monica Vitti. The opening film (Friday 21 October) will be Dry  by Paolo Virzi. Actress Sara Serraiocco in attendance.
The program covers all the contemporary trends of New Italian cinema, and it presents a panorama of Italian society. This is a first-rate opportunity for the Greek public, to further acquaint itself with its neighbor, with whom they share cultural, economic, scientific and most importantly, friendly ties.
SUBTITLES
The films are subtitled in greek. All films, with the exception of Leonora addio and The Adventure, will also have english subtitles.
TICKETS
Online films: 3€. Package of 3: 5€
CATALOGUE | SCREENING SCHEDULE