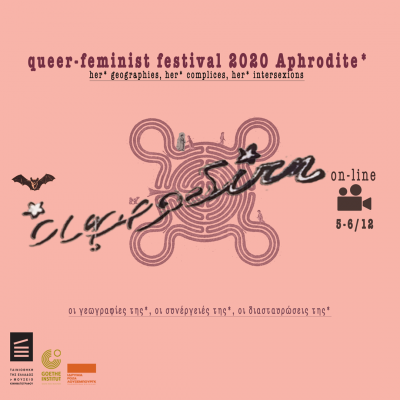 Saturday the 5th & Sunday the 6th of December 2020 
online.tainiothiki.gr
Since its beginning in 2018 the Aphrodite* queer-feminist film festival aims to establish a long-term relationship with local and international LGBTQI+ feminist communities. Aphrodite* 2020, through film screenings, discussions and workshops, explores art and activist projects which deal with the issues of surveillance, sexuality, body and intimacy, questioning how vulnerability, isolation, restricted freedom of movement and a closed border policy are experienced, as well as which new ways of contact are emerging through those restrictions in relation to the evolving condition of the pandemic.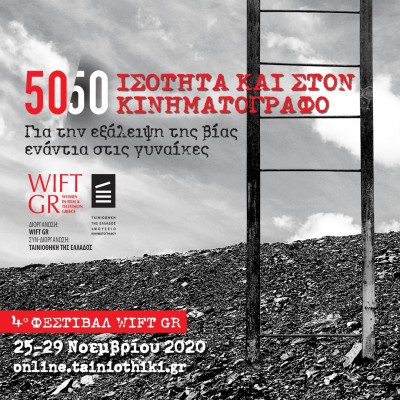 4th WIFT GR film festval
For the Elimination of Violence against Women
online.tainiothiki.gr
Following the great success of the previous years, Women in Film and Television Greece (WIFT GR)and the Greek Film Archive present the 4th 50/50 EQUALITY IN CINEMA WIFT GR FILM FESTIVAL, which will take place between 25 and 29 November 2020, on the occasion of the UN International Day for the Elimination of Violence against Women (25 November), under the auspices and with the support of the Hellenic Ministry of Culture and Sport, and under the auspices of the Hellenic General Secretariat for Family Policy and Gender Equality.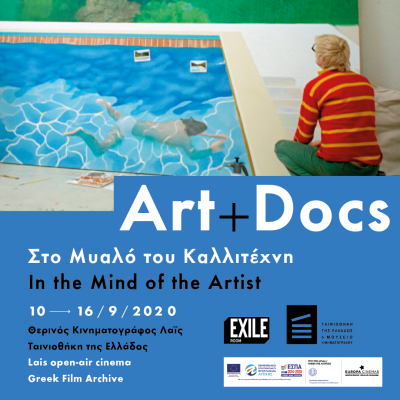 Art + Docs: In the mind of the artist
September 10th to 16th, 2020
Lais open-air cinema, Greek Film Archive
The Greek Film Archive and Exile Room present a week of documentary dedicated to the obsessive universe of artistic creation. Recent productions, as well as vintage gems that deign a second coming, will stimulate both the eyes and the minds of art-loving movie buffs.
Renowned documentary filmmakers, like Peter Watkins, Agnès Varda and Nathaniel Kahn, meet notable newcomers in a kaleidoscope of films on the eternal hunt for inspiration, the elusive nature of talent and the limits of artistic expression.
An extraordinary look into the urban street art scene, unconventional portraits of ingenious artists, like Edvard Munch and David Hockney, unknown trailblazers demanding the retelling of Art History, titillating imagery and shameless press manipulations courtesy of Robert Mapplethorpe and Maurizio Cattelan, are just a few of the things you can expect to see in this showcase, that can only be described as a roller-coaster ride through the impenetrable world of art!
All screenings will take place at Lais, the Greek Film Archive's open-air cinema, with Greek subtitles.
This is the second collaborative foray into Art & Docs, organized by the Greek Film Archive and Exile Room, following a successful showcase in 2015.