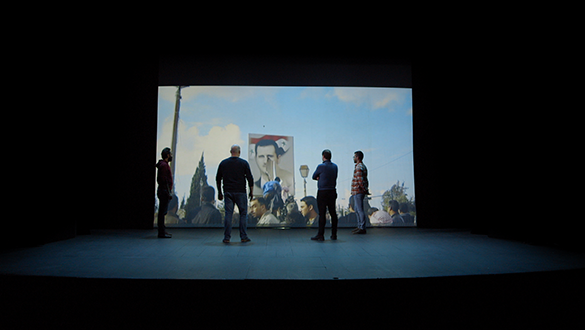 Nearly ten years after the beginning of the Syrian revolution, three Syrian activists –Yadan, Odai and Rani– reunite on a theatre stage in Paris. Through life-size projections onto a big screen,
Syrian director Rami Farah confronts the three men with footage, some of it their own, depicting events that changed their destinies forever. Watching the brutal footage together, they reflect on their personal journeys, revive their collective memory, and wonder what is left of their hopes and dreams. Their reunion serves as a unique window into the complexity of the situation in Syria, where a peaceful uprising was replaced by a ferocious war.
---
Rami Farah is a Syrian dancer, actor and filmmaker born in Damascus in 1980. Throughout his oeuvre and across art forms themes of belonging and displacement recur.
Signe Byrge Sørensen was born in 1970. She produces films since 1998 and is the founder of the award-winning company Final Cut for Real. She has also directed several documentaries. Our memory belongs to us won a special mention at CPH:DOX and was selected for IDFA.
---