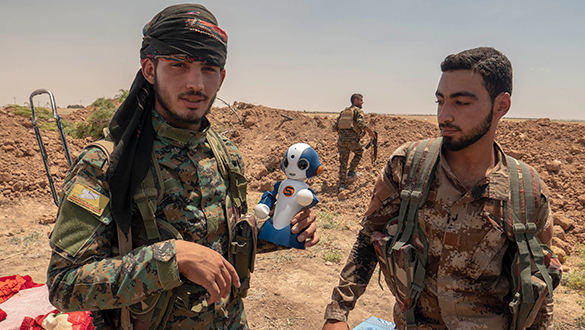 In the documentary, Marcie interacts with a small robot. In his own words: "The film begins in Iraq, Mosul, at the precise moment of the fall of the Islamic State. When I arrive there are still a few
fighters of Daesh in the ruins of the city, there are more bodies in the streets. A.I. at waris not a war movie as I was able to shoot in Itchkéri kenti (2016) or Tomorrow Tripoli (2014). I'm not looking
to film the battle as the symbol of destruction and devastation. For me the apocalyptic atmosphere is a metaphor for our current humanity".
---
Florent Marcie (1968, France) began photography in December 1989, during the Romanian Revolution. He started directing documentaries in 1994. He occasionally collaborates with the written press and institutional media. His main focus is on how mankind behaves in wartime, the challenges of information in our societies and the prospects for revolutions in the post-Cold War world.
---